Today, lunch was just a bit different from usual. We held a street party as part of our Queen's 90th Birthday Celebrations.
Children had the opportunity to have a party lunch with sandwiches, crisps, veggie sticks, chocolate crispie cakes and jelly and ce-cream while music played in the background.
The school hall decorated and ready for the children to arrive to have their party lunch.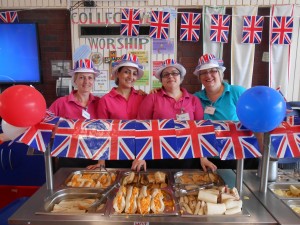 Children from the 2 year old nursery to Year 6 enjoying the street party.
A big thank you to all the staff that made this event possible.